Medical Physicist, 2nd Year Resident
Isaac Bailey
Medical Physicist, 2nd Year Resident
Biography
Isaac received his undergraduate degree in Radiation Health Physics from Oregon State University.  He continued his education at the CAMPEP accredited Oregon Medical Physics Program in Portland, Oregon where he received his graduate degree.  During his graduate studies he had a focus in diagnostic imaging physics and subsequently completed his master's thesis on the impacts of tube current and tube potential in Computed Tomography and the resulting influences on image quality and dose indices.
Isaac joined the Upstate Medical Physics residency program in June of 2017.
He is originally from The Dalles, Oregon and now lives in Canandaigua, NY.
Education
M.S. in Medical Physics, Oregon Medical Physics Program, Portland, OR
B.S. in Radiation Health Physics, Oregon State University, Corvallis, OR
Certifications, Licenses, and Professional Organizations
New York State Limited Permit to Practice Medical Physics – Diagnostic Radiological Physics
American Association of Physicists in Medicine (AAPM), Resident Member
American College of Radiology (ACR), National Member in Training Physicist
Radiological Society of North America (RSNA), Member in Training
Certified Radiation Equipment Safety Officer (CRESO) for NY State
MQSA credentials to perform mammography surveys.
Including Digital Breast Tomosynthesis (DBT) units recently approved by the FDA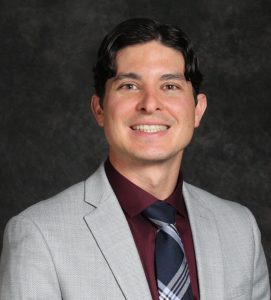 Medical Physicist, 1st Year Resident
Marcus Lamaster
Medical Physicist, 1st Year Resident
Marcus received his undergraduate degree in Physics from Indiana University, and his graduate degree in Medical Physics from Radiological Technologies University. After completing his master's degree, Marcus went on to work under the medical physics team at Indiana University School of Medicine in Indianapolis, where he was trained for two years as a diagnostic medical physicist.Marcus is passionate about image quality and patient safety and is eager to hone his skills as a medical physicist. He is delighted to have joined Upstate Medical Physics as a Diagnostic Medical Physics Resident in June of 2018.
Marcus is originally from Indianapolis, Indiana and now lives in Fairport, NY.
Education
M.S. in Medical Physics, Radiological Technologies University, South Bend, IN
B.S. in Physics, Indiana University, Bloomington, IN
Certifications, Licenses, and Professional Organizations
American Association of Physicists in Medicine (AAPM), Resident Member