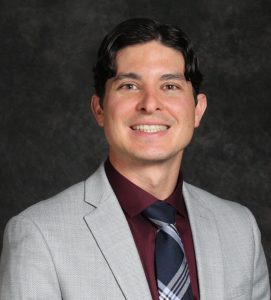 Medical Physicist, 1st Year Resident
Marcus Lamaster
Medical Physicist, 1st Year Resident
Marcus received his undergraduate degree in Physics from Indiana University, and his graduate degree in Medical Physics from Radiological Technologies University. After completing his master's degree, Marcus went on to work under the medical physics team at Indiana University School of Medicine in Indianapolis, where he was trained for two years as a diagnostic medical physicist.Marcus is passionate about image quality and patient safety and is eager to hone his skills as a medical physicist. He is delighted to have joined Upstate Medical Physics as a Diagnostic Medical Physics Resident in June of 2018.
Marcus is originally from Indianapolis, Indiana and now lives in Fairport, NY.
Education
M.S. in Medical Physics, Radiological Technologies University, South Bend, IN
B.S. in Physics, Indiana University, Bloomington, IN
Certifications, Licenses, and Professional Organizations
American Association of Physicists in Medicine (AAPM), Resident Member
---
The Upstate Medical Physics Diagnostic Imaging Residency Program is a 2 year program which provides the experience required to take the American Board of Radiology certification examination, and, more importantly, prepares the individual to independently practice in the complex world of imaging physics.
To find out more about our program, click the Learn More button.